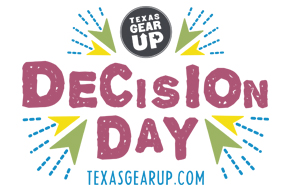 When your TXGU'ers are ready to make the huge decision about which college they're going to attend, that's clearly worth celebrating in style. Hosting a Texas GEAR UP Decision Day is a fantastic way to let your seniors officially announce their postsecondary plans at an event truly worthy of the occasion. And we've got a treasure trove of resources just waiting to help you make it happen.
Download the zip file below for a wealth of tools you can use to stage your own Texas GEAR UP Decision Day. You'll find:
Decision Day logos
Social media graphics
Step and repeat design
Photo sign designs (protip: use in your event's photo booth)
Snapchat filter
Snapchat guide
Social media guide
Press release template
Media alert template
Sponsorship/donation letter template
Event day template
Decision Day letterhead
All the art files are completely ready to be shared or sent to professional printers (and the logo files can be put on swag items to provide souvenirs at the event). And all the templates are ready to be customized to your event's exact needs. Texas GEAR UP Decision Day is all about celebration—with maybe a bit of inspiration thrown in for the younger students—so we want to help you make yours a massive success. Questions, comments, and post-event photos are very welcome at info@texasgearup.com.
Enjoy your big day!